This year was a blast and the San Diego community shined! We sponsored L.E.D. (Lights.Energy.Drums.) at the USS Midway Museum Opening Night Party and Rhythm Extreme for the TSE Live Theater Stage. Connie assisted as a stage manager for the Live Theater stage for the Technisch Creative team. Connie and Paul also both spent time catching up with many long-time event icons and getting to know future event superstars.
As they move on to Las Vegas and Catersource, T. Skorman congratulates "The Special Event" for 34 eventful years!
L.E.D. (Lights Energy Drums)

A Video Peek
was featured as part of the USO show on the top deck of the USS Midway for the TSE opening night party. Producer Nicole Bernardi from Innovative Entertainment asked if we could create something in the swing genre. L.E.D. creator Fred Tallaksen came up with a high-energy electronic swing song that captured the mood perfectly. The highlight of the evening was the firework finale featuring L.E.D. perfectly positioned at the bow of the deck.
Paul Creighton, CSEP attended his first "The Special Event" in 1995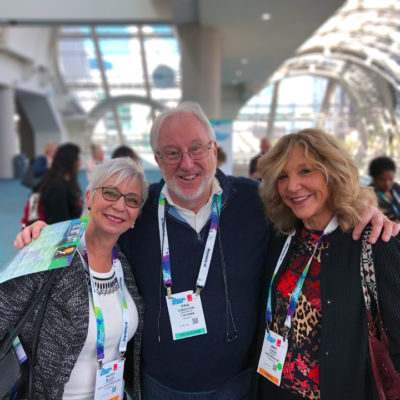 and he loves being part of an industry still thriving and growing 24 years later. Paul's all smiles with fellow Special Event Magazine Lifetime Achievement Award winners Kathy Miller and Janet Elkins.
Connie Riley, CMP, CSEP enjoyed being a stage manager on the
Technisch Creative team for the TSE Live Theater stage. "Every time I work with professionals like Kate Walski and Stephanie Jayko, whether it's in a local association chapter or a large event, it make me very optimistic for the future of our industry." – Connie Riley