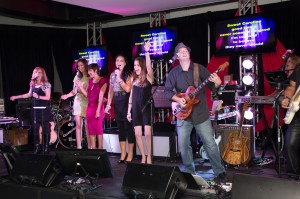 "AllStar Rock Live is the perfect blend of entertainment and crowd participation! I had a blast and I loved how AllStar Rock Live engaged the crowd." – Janina Martinez, Quest Drape
"They rocked the event! I was very impressed by the variety of music they were able to perform and to incorporate Karaoke – was genius!" – Juan Guzman, The Peabody Orlando
This act combines a great band, your "ROCK STAR" singing guests and an interactive DJ in a non-stop format. There are literally no breaks in the entertainment all night long. Three main elements combine to create the personal rock experience your guests will be talking about long after the party!
AllStar Rock LIVE– The Band
Creates a high-energy Rock'n Dance party that will keep the audiences on their feet from the very first note. These great musicians and talented vocalists will take your event to a whole new level. This is the ultimate corporate party band.
AllStar Rock LIVE – Karaoke
Let your audience become a member of the band! AllStar Rock LIVE provides lyrics on the video monitors. This interactive segment can be just a portion of the night or your entire event. Your "rock stars" names appear on video screens along with the song lyrics and cool motion graphics. Over 100 songs to choose from!
AllStar Rock LIVE – Emcee Interactive DJ
Our DJ keeps the party going between Karaoke and Band segments with all of the latest dance hits, motivating your guests to keep the dance floor filled.
FIND OUT MORE:
Contact Gabrielle Mourino at Gabrielle@TSkorman.com or 407.895.3000 ext. 215
Check out their planner-friendly website at AllStarRockLive.com.
They also have a great promo page on our TSkorman.com website!