Want to know more about the trend incorporating lighting, wireless tech and live performance for events? Connie Riley, CMP, CSEP shares her thoughts.
Extreme Beam
From the creators of Rhythm Extreme and Light Force comes America's newest visual sensation – EXTREME BEAM! This high energy four minute show features a talented performer atop a four foot pedestal creating and manipulating laser beams at will. Audiences around the world have been mesmerized as our performer controls multiple laser beams in an intricately choreographed routine.
For more info…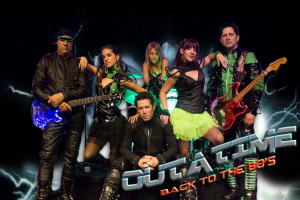 OutATime – Back to the 80's
A futuristic look back at one of the greatest decades in Rock 'n' Roll history. This time-traveling act performs 80's music from Bon Jovi, Madonna, Michael Jackson, The Eurythmics, Loverboy, Billy Idol and more. They absolutely pack the dance floor! For more info… Client-friendly website
An Evening on Broadway
The choice is yours with An Evening on Broadway. Will you choose a performance of scenes from your all-time favorite musicals or perhaps the most current shows straight off the stage? You can even choose both! For more info …
Check out our client-friendly site.
Trends – Lighting Up Events

Connie Riley, CMP, CSEP
No longer simply the realm of singers, dancers and comedians, today's reality shows such as "America's Got Talent" have popularized more visual entertainment forms incorporating amazing lighting with live entertainers. With the advancement of wireless technologies these performances can be duplicated for many corporate events.  images and more …
E-mail Connie or call 407.895.3000 ext. 213.