L.E.D. (Lights,Energy, Drums), FunkyWunks and Free Daps have 3 things in common: they each increase the energy in the room the moment they take the stage, they use both sound and visuals to keep the audience interested and they have a way of encouraging the crowd to lean into the performance. If you're looking for something to add energy to your next event, take a look.
In January, L.E.D. (Lights.Energy.Drums) lit up the deck as fireworks filled the sky at the TSE 2019 Opening Night Party on of the USS Midway. The drums change color to the music providing energy with both sight AND sound.
FunkyWunks are showing our corporate clients why they did so well in the World of Dance competition. General Session audiences love them!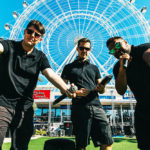 Free Daps blend improvisational comedy with free-style rap in a highly entertaining, fast paced style. They are great for anywhere you want to draw or engage an audience, from general sessions to trade show booths to closing night entertainment.