Oct14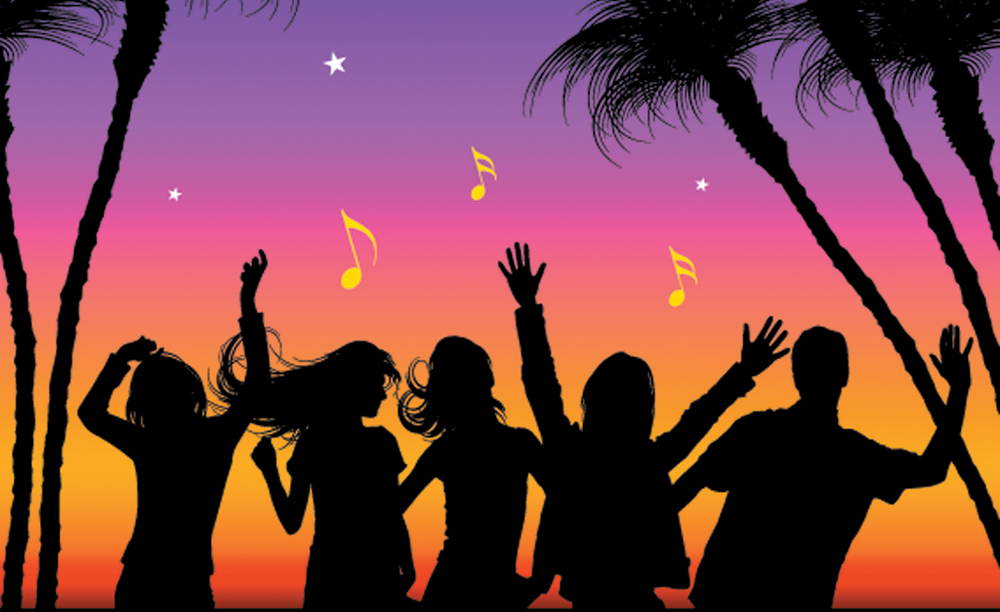 The holiday season here in Florida has its own special flavor. Unlike much of the country, we can still have a party on the beach or in a park or our own backyard. We put lights up on our palm trees or pool enclosures and sparkles on our flip flops. Florida holiday parties are a great time to provide guests with a chance to interact with each other and become entertainers themselves. Possibilities from T. Skorman include dance bands that bring the party with them (including beach volleyball, limbo, conch blowing and karaoke) to a laid back single or acoustic act or you can move the party around with live entertainment that "strolls" with you. Here are a few favorites for our Florida party-planner friends.
The sounds of the tropics come to life when Volcano Joe & the Hot Lava Band takes the stage. The music of Jimmy Buffett, the Beach Boys, and all your favorite dance songs is delivered in a four-hour non-stop performance. With Volcano Joe & the Hot Lava Band you get also get lots of limbo dancing, conch shell blowing, beach ball volleying audience interaction! If that's not enough fun, they also have a wacky on-stage "margarita" mixing bartender providing DJ duties between band sets.
View Act
Strolling Entertainment
Combining the energy of a live entertainer with the flexibility of a strolling musician, there is no location too remote for The Strolling Piano. Pool decks, lakes, golf courses, outdoor festivals, and beaches are all easily transformed into entertainment space. The Strolling Piano is a truly unique entertainment option. The same production capabilities allows us to offer another strolling concept
The Strolling DJ
– an endless catalogue of music, provided by an interactive DJ/Emcee, that can move around with your guests.
View Act
Acoustic Joe is an "unplugged" band that plays the type of music your audience wants to hear, without overpowering the atmosphere of your event. Playing acoustic guitars and percussion instruments, this is not boring forgettable jazz, this is a blend of contemporary and classic hits that your guests will remember!
View Act
Orlando performer and songwriter John Holley brings a smooth vibe to any event. His cool, soulful renditions of contemporary music, delivered in his unique bluesy vocal style, allows your guests to converse and enjoy the music at the same time. John can appear as a single with his guitar or add instruments and a female vocalist. This is a great choice for receptions, poolside events and event lounges.
View Act
AllStar Rock Live combines a great band, your 'Rock Star' singing guests and their emcee/ interactive DJ in a non-stop format. The audience members become part of the act as their names appear on video screens along with song lyrics and cool motion graphics. The Allstar Rock LIVE band and Emcee Interactive DJ keeps the party going with the latest dance hits, keeping the dance floor filled. They can even work in some holiday rock 'n' roll favorites.
View Act
If your holiday party just would not be the same without Santa, other costumed characters, and/or traditional a cappella carolers, we have great options for you there too. Click here to find out more about these acts and more available to you through T. Skorman Productions. We can also provide complete sound, lighting or video packages!
Contact Us